Use notifications to schedule automated reminders to yourself or to your colleagues.
Notification recipients can be application users or internal contacts with a valid email address. The email sent to the recipient will contain a link to the object that the notification is linked to.
Notifications are available for the main business objects, but are most commonly associated with agreements as they help users ensure both financial and non-financial obligations are met and reduce the risk of missing contract deadlines. 
Notifications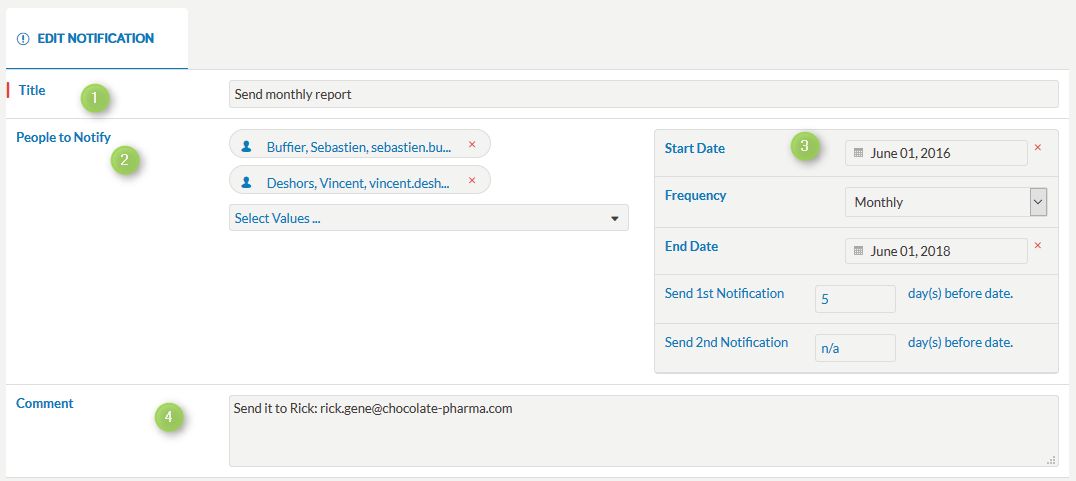 Enter a Title. This will also be the subject line of the email that is sent, so a clear, relevant title is important. 
Select the people who will receive the notification. The list of available recipients consists of Application Users & Internal Contacts.
if you don't see the name of the recipient you're looking for, it's possible that person is of type External, or does not have an email address. Check the contact's profile to confirm.
Define when the notification should be sent and its frequency.
Add a comment which will be added to the body of the Notification email. Note that by default, the body of the email will contain a link back to the object it was sent from.