Contact groups are used for communicating with groups of contacts and/or users via an alert or in a review, or for granting authorization to restricted objects or documents.
Contact groups can be private or shared.
Viewing Contact Groups
Access a contact group by clicking its name in the Contact Groups tab on your home page or in the Contact Groups tab in the Contacts list.
The members of the group will be displayed in the Contact Group Members tab.
Creating / Editing Contact Groups
To create a new contact group, click the New Contact Group button in the Contact Groups portlet. The New Contact Group form will appear.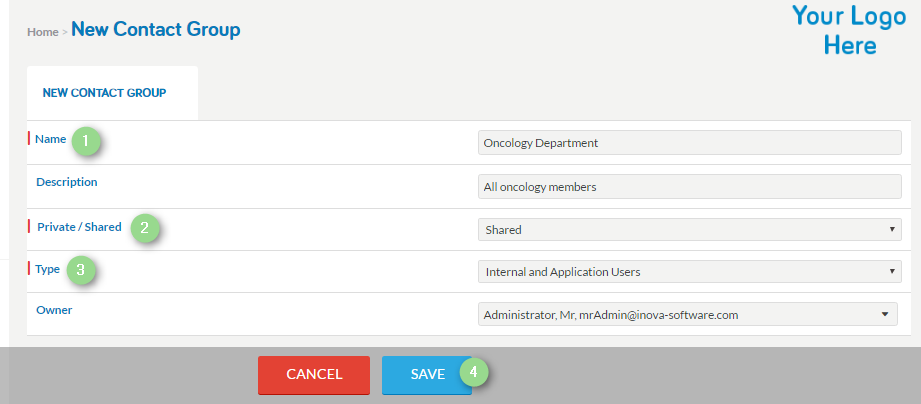 Enter the name of the group.
If you have "Enable to Share Contact Groups" rights, you can choose "Shared" to share the group with the other users.
Otherwise, all your contact groups will be Private.
Select the Group Type from the dropdown menu> This selection will pre-filter by type the list of contacts you can include in the group. This selection is important, as not all types of contacts can be included in all use cases.
Click "Save". The system will display the Contact Groups Overview screen.
Now click Choose Group Members. The system will display a contact selection page, as shown above. The list of contacts you can add to this list is filtered as per the type of group selected in step 3 above.
Select the members of the group and click OK. The system will save your selections and display the Contact Group Overview screen.
Managing Contact Groups
You can only edit the groups you own.
Most users can only create private contact groups. Your application administrator can create shared groups, which are shared with all users but managed by the administrator. In such cases, only the administrator knows who the group members are.
Using contact groups
Authorization Portlet
Contact groups can be selected in the Authorization portlet on restricted objects:

When using contact groups to grant authorization to restricted objects, you can only select a group comprised of users.
Reviews
You can also use a contact group to participate in a review:

Associate a contact group with an objects
You can associate a group of contacts with an object, and then use this group to send mass communications or alerts:
In this use case, the contact group can contain any type of user.
Notifications
The notifications can only be sent to application users and/or internal contacts.
Therefore, if you have created a group containing all types of contacts (that is to say including external contacts), this one will not appear in the list of available groups for notifications.