Meetings allow you to keep track of meetings you have organized or participated in, internally or outside the company. Conferences allow you to link these meetings to a single conference or other related event.
Meeting can be separated into two use cases, internal and external.
Internal meetings can be linked to one or more opportunities to be discussed. Participants can make comments directly in the meeting itself before it happens, exchanging information and guaranteeing a productive session.
External meetings are useful for tracking interactions with partners, and for viewing meeting history when preparing for an upcoming conference or event. External meetings can also be populated into the system directly from conferences and other partnering events that use the One-on-One platform.
Using meetings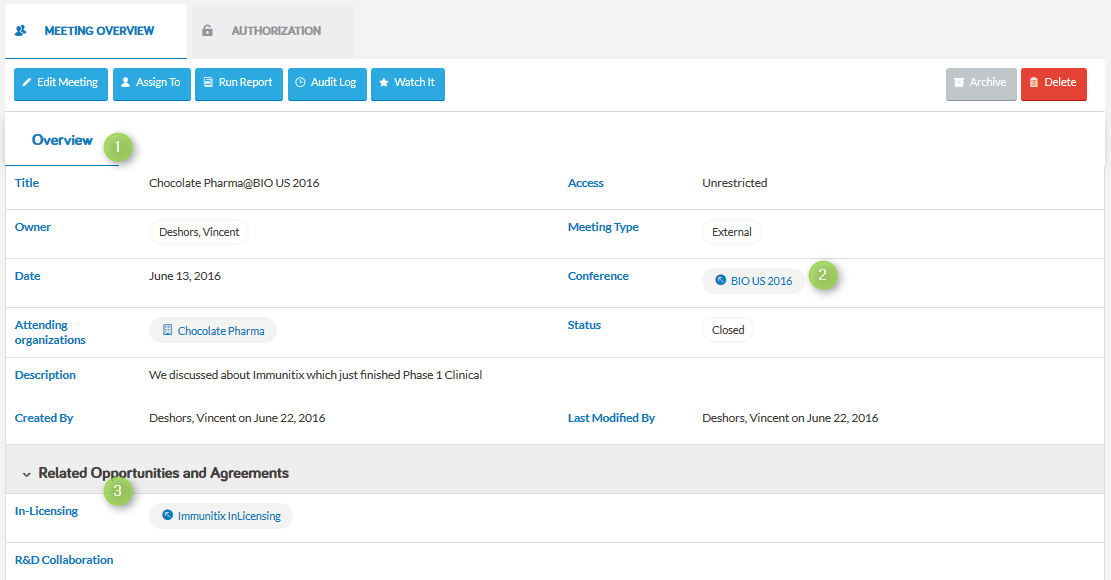 The overview screen displays the meeting details.
The conference field indicates whether the meeting is part of a conference. It can be used to group the meetings list by conference and view all the meetings that took place at a single event.

Projects and agreements can be linked directly to a meeting.

Attendees and other details

Link contacts to a meeting as Attendees.
Store your meeting minutes and other files in the Documents tab.
Store preparation and follow-up emails. To link emails to a meeting, use email fetch.
Using conferences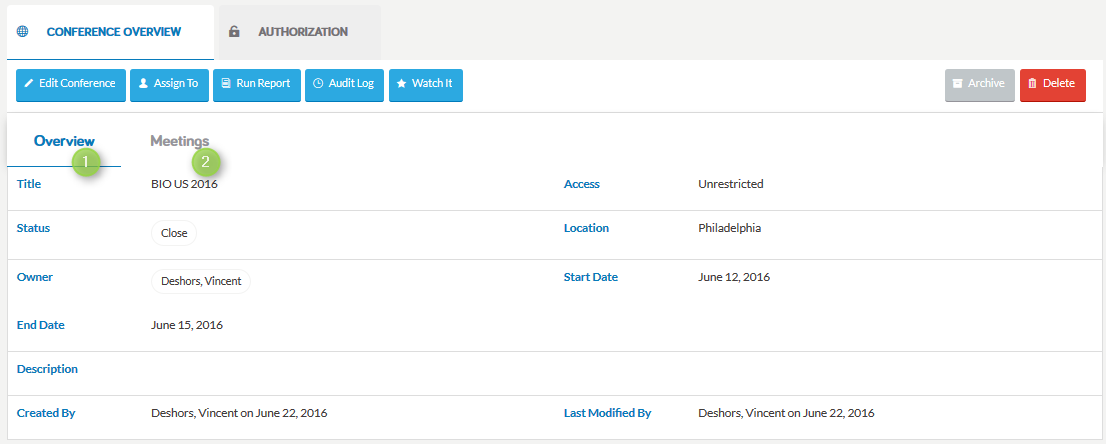 The overview tab contains general information about the conference.
Click the Meetings tab to view all meetings your company participated in during the event.
Meetings integration with BIO events
Starting with version 6.1, it is possible to have meeting, conference, company, and meeting attendee information copied over from the One-on-One partnering system into your D&A platform. Meetings created through this integration are external and will be linked to a conference record.
With this integration in place, BIO attendees who also use the D&A platform for opportunity tracking can refer back to past meeting information to decide if and when to schedule future meetings with potential partners at upcoming partnering events. The meeting and conference data populated from BIO enriches the data related to opportunities already being tracked in Inova, adding to the history of interactions and partnerships with important contacts and making follow-ups more effective.
The data is also automatically searchable in the mobile view, so as you are racing to your next partnering meeting you can quickly grab your phone, look up the profile of the person you're seeing next, and review it to refresh your memory about any key details from past interactions that would help make the next session more productive.
Using the BIO One-on-One integration with Inova
Here's how you can use the integration to make your BIO meetings more productive.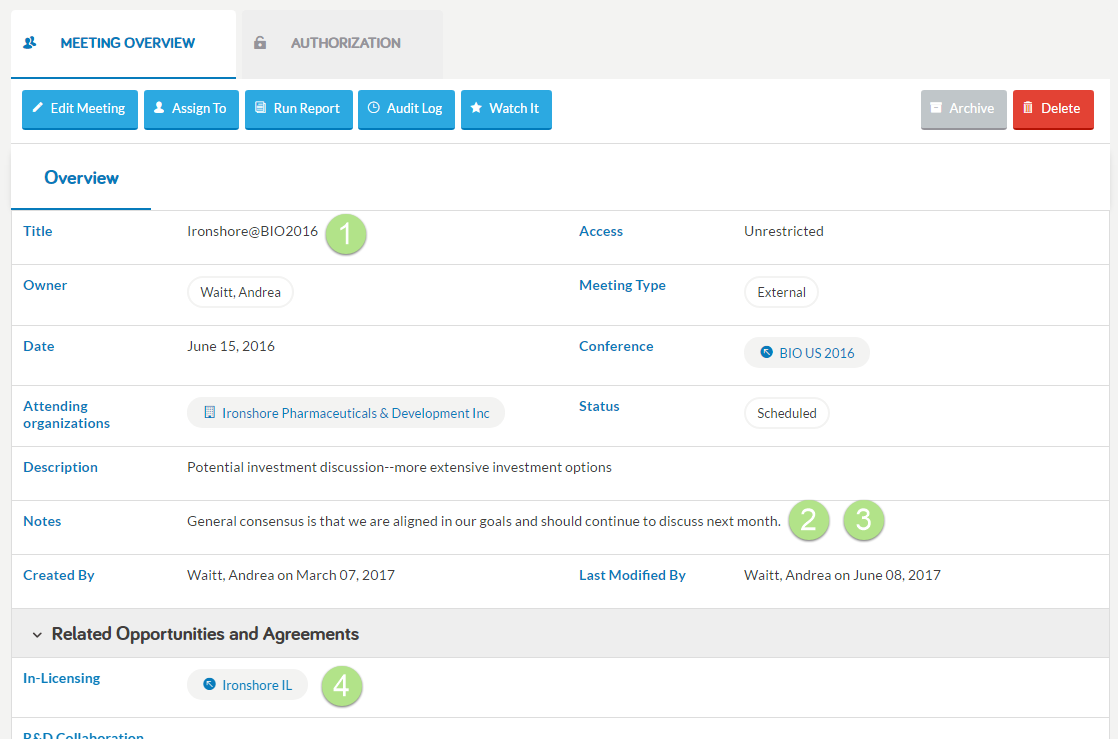 When a BIO partnering meeting is scheduled in One-on-One, the data about the meeting as well as the linked company and meeting attendees (contacts) can be imported into your Inova Classic platform.
Before the event starts, your colleagues who will not attend the BIO event can enter information you need to discuss at a meeting in the meeting's Notes field.
During the meeting, you can add your own notes into the same field.
Assuming the meeting was successful, after the conference you can create an opportunity (e.g. an in-licensing project) from the meeting to track your ongoing interactions with that company and centralize the emails and documents you exchange over time.
Before the next major partnering event, review the opportunity and company details to help you decide whether you need to meet with the company again.
Note: The integration also imports similar data points from meetings held at EBD events.
For more information about this integration, contact your Inova Customer Success Manager.